At its Third Annual Star Celebration, held on April 27, 2017, at the Inn at Lambertville Station, Volunteer Guardianship One on One, Inc. had the honor of celebrating Ms. Linda Bryant's lifetime dedication to serving our older population and their caregivers through her work as a health care professional and volunteer. Ms. Bryant is the Director of the Center for Healthy Aging at the Hunterdon Medical Center, and has served as a trustee of Volunteer Guardianship One on One for nearly 20 years.
During the celebration, speakers from the Hunterdon Medical Center, United Way of Hunterdon County, where Linda also serves as a board member, Volunteer Guardianship One on O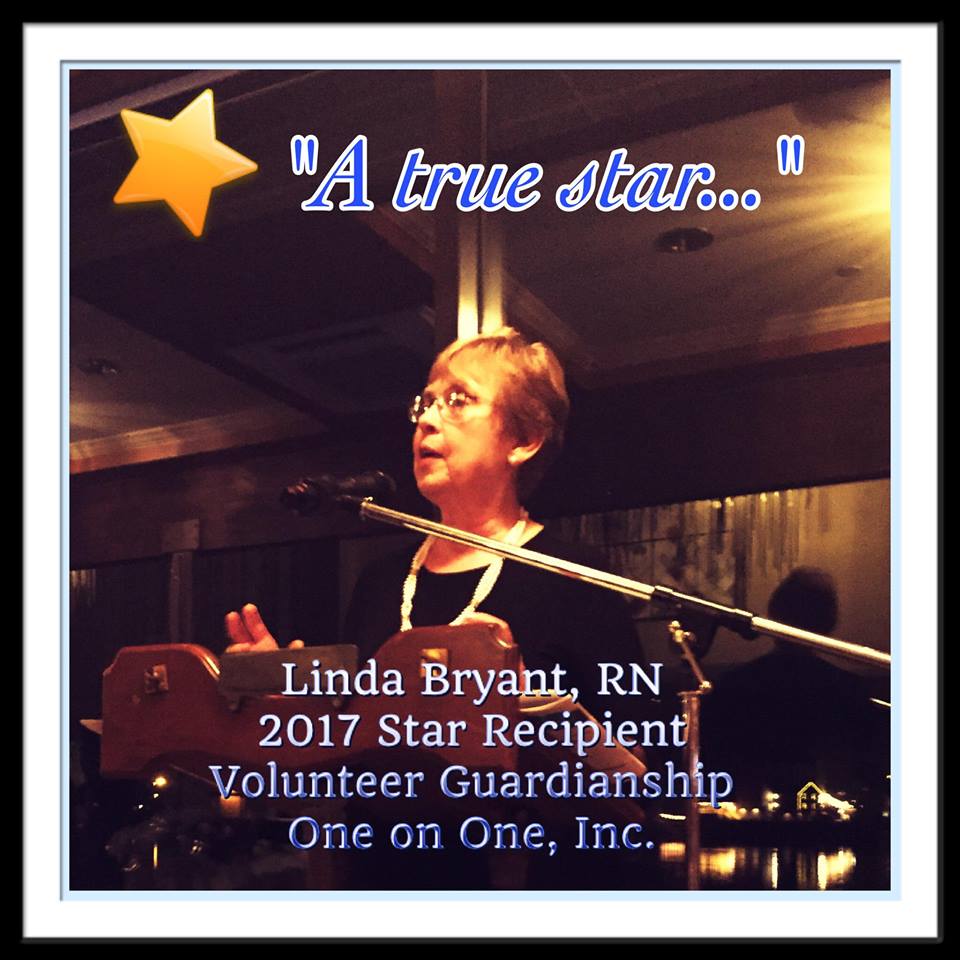 ne, and personal friends recounted the impact Ms.Bryant had on their agencies, fund raising activities, and professional achievements. "Her untiring efforts for nearly 27 years [at Hunterdon Medical Center] have led to the creation of the Center for Healthy Aging the many senior services initiatives throughout the Hunterdon Healthcare System,and the staffing of the Geriatric Assessment Program." said Robert Wise, President and CEO of Hunterdon Healthcare. At Volunteer Guardianship One on One, Ms. Bryant coordinates the community education and outreach activities by hosting local seminars on issues impacting older people and their caregivers. She is also a recipient of the 2015-2016 Volunteer Bronze Service Award from President Obama, a recognition of her volunteer service to the community.
Volunteer Guardianship One On One recruits, educates, supports and mentors persons who wish to give back to the community by serving as court-appointed guardians for adults who are no longer able to manage their own affairs, and who have no family or friends able to serve in that capacity. The organization also educates the Hunterdon County community on issues relating to guardianship and aging, such as
coping with Alzheimer's disease, hoarding, palliative care, identity theft, and estate planning.
Hear more about Linda's impact on the community by viewing our honoree video below: